I don't know about you guys, but I am
so
in the mood for fall. We've actually had pretty nice weather the last week, so I really shouldn't complain. But the slight dip in temperatures has been the biggest tease and all I want to do is wear my boots. It doesn't help that in the last week every store has sent me an email about their new fall collection. Such torture! I'm trying to resist, really I am, but with each passing day it just keeps getting harder and harder!
So I decided to make a fall wish list with the hopes that if I just put it out there, I will feel less compelled to buy some of these things. Some of them I won't buy anyway because they are out of my price range, but some are just getting a little
too
tempting. So maybe if I put them on my list, I will feel a sense of satisfaction and not get an itchy trigger finger. It should totally work, right? Let's hope so.
I think I felt this way last year too, but I am all about simplicity right now. Especially neutrals. Black, grey, white and navy are my very best friends. I think it's because I've been drooling over French style. Man those ladies know how to pull off a black outfit. So with that in mind, here are my picks. With a little bit of pizzazz thrown in for fun.
First and foremost, I am dying for a shirt like this one. I have lots of stripes, but I swear every outfit I pin on pinterest has this exact shirt in it. I think I could create a million outfits with this one piece alone. Believe it or not, the perfect white shirt with black stripes is nearly impossible to find. Most are navy and have too much detail. I won't give up though.
Or this one...
I'd also really like this one.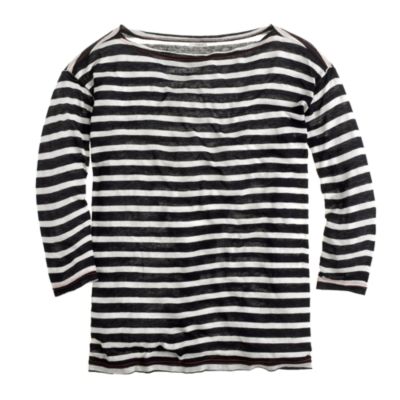 Yes there is a difference. One is predominately white, the other is more predominately black.
If you can believe it, I don't have a single Peter Pan collar item in my closet. Pretty sure that needs to be remedied pronto.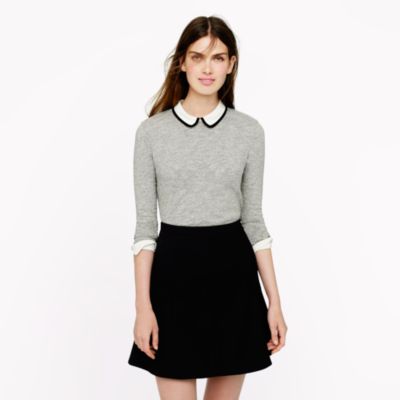 Really, I'd just take the entire Boden catelog. Le sigh.
The things I would do for this skirt...
I'd also take this one gladly.
I also feel like this dress would be an amazing investment. In every color. I feel like I'd wear them forever.
I'm obviously not going to actually get one of every color. But I sure wish I could. I have such trouble finding good winter dresses. They are either skin tight which isn't comfortable, or they look like sacks. This one has beautiful structure.
Now on to shoes. There are three pairs I would love. Do I need them? No. But I'd love them.
Aren't these the cutest?
Finally,
Alright, so there is my list. What are you craving right now? Are you still all about summer, or like me ready to move on. Let me know!