Yes, the question mark is intentional. I've had a few plants here and there. They've all died and quick and painful death. Which is a little awkward considering the amazing talents of my mom and grandfather. Their gardens are to die for, especially the roses. My mom tried to teach me as a kid and even forced me to help, but I hated it. HATED it. I still hate getting dirt under my nails (some things never change), but for some reason, once it was my house, I felt differently about the process. Let me tell you, I did not see this coming.
I should probably mention that my timing is ridiculous. My kitchen isn't fully unpacked, there are still boxes everywhere and bins in my closet. But it's been so nice here and it is already May (how did that happen!), so I got worried about getting my herbs and tomato plant in the ground. Our grass in front was desperately in need of trimming, so we went to Home Depot to get a rake and somehow I convinced fiance it was the right time to get gardening supplies. How I achieved that, I'm not sure.
I've been collected pots for the last week. The colorful ones are from Home Goods and the deals are amazing. I got both small ones for $32
combined
. The smallest cute ones at Home Depot cost that much for one! Needless to say, I was pretty excited at my deal. I went with colorful pots because my entire backyard is brown. Brown fence, brown patio, brown dirt. This baby needed some color pronto. The white pots are from Home Depot and they cost $10 and are some alternative to terra cotta. I'm just liked them.
Then, while at Home Depot, I picked up my little plant guys. From left to right we have the tomato plant, thyme, mint, basil, a jalapeno bush, rosemary and a marigold.
And also, oregano and two more marigolds for around the tomatoes. Marigolds help keep away tomato munching bugs.
Once we got home, I got to work planting my little lovies. The tomato plant in the middle and three marigolds on the outside. Plus a little tower for the tomato plant to climb. These plants were all in the big blue pot.
In the medium green pot, I put the thyme, oregano and basil.
The mint got a whole white pot to itself since it spreads like wildfire.
So did the jalapeno plant because I didn't want any spiciness on my other stuff.
The rosemary plant got the smallish blue pot because it tends to get nice and bushy.
Finally, a shot of all of them! I think they really add some nice color and life to the patio. I can't wait until they start to grow. I'll be sure to update you with their size in a few weeks!
Next up on my list is to add some pizzazz to the flower bed. And, I'd love to get some herb markets used by Old Town Home in this
post
. Here is the picture, how cute are they!
Here is another option from Etsy that I've been thinking about...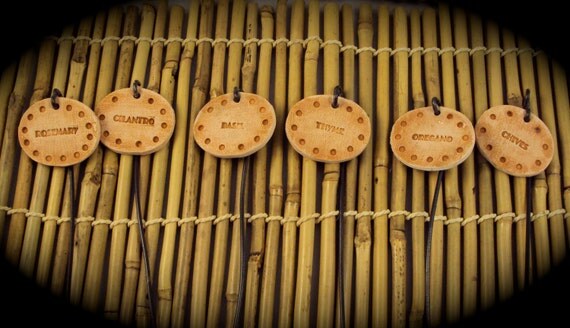 I like OTH's version better because they are nice and colorful. There are tons of stone ones that lay in the dirt, but those tend to get covered when you water. So I'm keeping my eyes open...